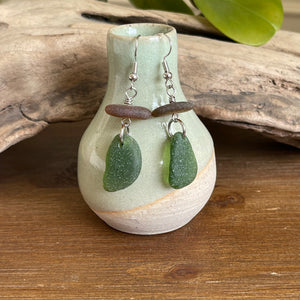 These gorgeous olive green and brown stacked sea glass earrings are handmade in Dana Point, Ca. on nickel free wires.
Your earrings will arrive in a pretty gift bag ready for gift giving to a friend (or yourself!)

All of my jewelry is handmade by me from genuine sea glass and beach stones tumbled by the sea. Did you know that It takes decades for broken glass to become sea glass? Worn by waves, recycled by the sea, sea glass is a product of both man and nature. Bottles, jars and glass carelessly discarded are smoothed by the waves and sand until it washes up on shore, waiting to be found by a lucky passerby. Every piece is unique!!

Green sea glass is mostly from beer and wine bottles, some of it may also be from art glass. One in fifty pieces of sea glass will be green. 
Brown sea glass may come mainly from beer, root beer and whiskey bottles. The older the glass the less common it is. Old Clorox and Lysol products came in large brown bottles. Today, many wine and American beer companies still use brown bottles to help protect the liquor inside the bottles from the sun. Something in the region of one in two pieces of sea glass will be brown.